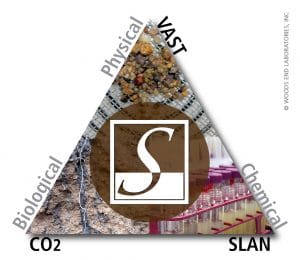 Solvita – providing indicators of soil biological processes.
Soil biological forces are the cornerstone of productivity and stable yields – and Solvita® soil tests capture key biological, chemical and physical traits indicating healthy functioning.
A common feature of the soil-plant system is soil-dwelling organisms – bacteria, fungi, animals – expressing their activity and mass by metabolism – the consumption of litter and detritus and release of respired carbon as CO2. This is nature's natural cycle. It is widely recognized that overall soil respiration is indicative of total soil biology and can be used effectively to monitor and evaluate changes in soil management practices. In addition, respiring organisms and plant roots contribute to broader soil properties.  Solvita tests provide a capability to soil labs to easily and cost-effectively monitor these traits.
What Solvita soil tests are available?
Solvita offers a variety of ways to test your soil:
1. Field CO2 Test – Testing on the Farm: Self-test CO2 respiration with the Solvita Field Test. This application is designed for testing fresh, relatively undisturbed soil that is not processed in a lab.   This reveals "basal" (normal background) respiration and expresses the most natural soil metabolism under as-is moisture and texture conditions.  Use as a general indicator of soil biological activity and to compare with lab tests from dried, processed soil. The magnitude of the response may be quantified with the Solvita Digital Color Reader.
2. CO2 Burst Method – Standard Lab Protocol: Dried, sieved soil is moistened with a relative volume of water, triggering a flush or "burst" of carbon dioxide expressing the soil's microbial potential. This test is most appropriate if fresh soil samples are not available and where the soil region has intermittent dry/wet cycles.  Can be used to test soil disturbance related to tillage, lab grinding and sieving – all which influence the results. The magnitude of the burst is quantified with the Solvita Digital Color Reader.
3. SLAN Test – stored Organic Nitrogen: Use this Solvita test to measure the pool of stored soil nitrogen, also called labile amino-N, which is normally available in the course of a season. SLAN has been found to provide important insight into accumulated soil health factors – chiefly the favorable presence organic-fractions of nitrogen and crop rotations including legumes.
4. VAST – Volumetric Aggregate Stability Test: This lab procedure is a benchmark for natural soil testing when it comes to expressing the interaction of physical with biological soil properties. The unique test measures the relative volume of aggregated soil rather than the weight. Water stability of soil aggregates is considered a highly desired trait in soils, but has been costly foo commercial labs to evaluate. VAST makes testing this key trait of soil quality relatively rapid and is provided with a computational spreadsheet for expressing results.
5. Comprehensive Soil Health Suite – A New Way for Labs to Look at Soil: Many labs exploring healthy soil functioning have incorporated the Solvita CO2 into routine tests of Soil Health. CO2 respiration is only one part of healthy functioning, which includes measuring accumulated humus-N (SLAN test) and water stable aggregates (VAST test). The SOil Suite combines these tests and is provided with a comprehensive soil fertility index calculator to report results. To learn more, visit Woods End Laboratories.
Solvita tests are offered many commercial labs in the US,  Europe, South Africa and Australia. Please see the Solvita Lab Map for a lab in your area. If your soil lab isn't performing the CO2 Burst test, the Solvita Labile Amino Nitrogen test or VAST, ask them about it today. For more information call 800-451-0337. To order a Solvita soil test, visit our store.