Compost Maturity Testing in your hands, on-site

Solvita® puts the key to on-site maturity testing in your hands. With no chemistry skills or training, you can obtain results within 1-day that provide a realistic interpretation of the composting process. Many composters worldwide employ Solvita to monitor and ensure compost quality in the course of the entire composting process:
Monitor the process on-site
Gauge the end of composting
Compost Maturity – more than just one factor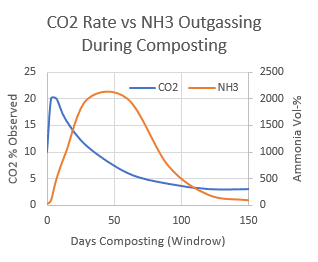 Solvita is uniquely designed to measure two important gases indicative of the intensity and duration of composting. Break-down of organic matter produces large quantities of carbon dioxide (CO2) which escapes into the atmosphere. Associated with this is the break-down of proteins and urea into free ammonia (NH3), a process which is often off-set from CO2 rate and often outlasts the CO2 cycle (see chart).  At the end of active composting, these two factors converge, the moment true stability is attained. Solvita is the only test that measures this combined trait in the form of a simple field-test.  For laboratories wishing to perform the test and report actual quantitative values, the DCR is available for both sets of probes. The Compost Maturity Index is a calculation developed by Woods End Laboratories to represent biological stability as an integrated test.
What is Associated with CO2 and NH3?
Carbon dioxide (CO2) and ammonia (NH3), the two most common gases released in composting, represent nearly polar opposites of biology and chemistry.  CO2 alone is odorless, non-toxic and "biogenic" as far as global carbon-cycling goes. Ammonia is a chemistry that can be somewhat toxic within the compost and malodorous and harmful as a gas. High rates of both these factors shows:
High oxygen depletion and high aeration requirements
High heating potential
Potentially anaerobic odors
A workplace hazard (while turning composts or storing compost indoors)
Potential plant and animal harm due to phytotoxicity
Field research over the decades has shown that compost that reaches the target endpoint is likely to be highly desirable product.
How is the Solvita maturity test different from other compost tests?
Solvita is a volumetric procedure, which means it measures respiration and emissions per unit volume of compost and not per unit weight. Volume measurements show the rate most realistically per actual stacked compost. If compared to lab tests which weigh product they will appear lower in the stages when compost bulk-density is very low (very porous) and higher than lab rates when the density is very high. This result is biologically and ecologically the most representative of behavior and effect on plants.  Also, the advantage of measuring respiration per volume is that the results are relevant for mixing growing media and building soils. Respiration rates of CO2 reported by many labs as mg CO2 per VS (or per OM) are relative scales which relate to the intrinsic stability of carbon but are very difficult to relate to real-world conditions.
How does the Solvita compost test work?
Solvita chemistry gels react to the concentration of CO2 and NH3 gases released naturally from compost. Conducting the compost test is easy:
Simply take a sample of compost by filling the test jar to volume
Insert the Solvita probes and seal the container.
Allow the container to stand for 4 hours.
Read the compost maturity test results by comparing the probe color to the color chart. For further accuracy, read the probes with a Digital Color Reader.
What does the Compost Maturity Test include?
Each Solvita Compost Test includes:
6 CO2 and 6 NH3 test probes
Incubation jars
An instruction manual that gives guidelines for proper use of compost products at each level of maturity and activity.

For more information, call 800-451-0337. To order a Compost Test Kit, visit our store.