DCReader – Solvita PC Software 
DCReader is PC software for Solvita users who have acquired a Solvita Digital Color Reader (DCR) and wish to access it via a P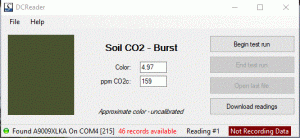 C.
DCReader works with all Solvita DCR products including the Multi-Mode (Yellow) and Field (Green) units. It can distinguish which type of DCR is being attached and also reports the serial unit and internal calibration settings on the unit.
Once connected to the PC, the program opens a window displaying test results visually and numerically and includes menu options to enable exporting data to a CSV file for spreadsheet or LIMS use. DCReader is included on a thumb drive with every purchased DCR and is easy to install.
DCReader also includes a memory download module for users of DCR-MEM models (all Green Field DCRs and Yellow Multi-Mode DCR-MEM).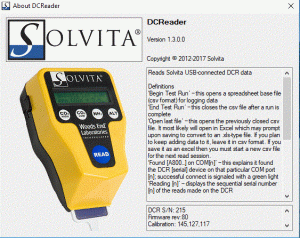 Current Rev: The current Rev level as of September 2017 is 1.3.0.0. Please inquire if this is not your rev level.  To determine which rev level you have open DCReader, click on Help>About DCReader and the Version number is as the top of the screen. Version 1.3 introduces error-logging, greater reliability overall and a link mechanism for upcoming technology upgrades.
To operate DCReader all you will need is a USB-mini connector cable that comes with your DCR purchase.
Users who did not receive a DCReader may purchase the software in the Solvita store.
DCR Firmware– Apps that run on DCRs
Two Versions of firmware downloads are available for Solvita DCR's. Note: current rev's are pre-installed on all new DCR's.
Multi-Mode DCR FIRMWARE REV 701.2 (pre-installed on Yellow DCRs)
Solvita DCR Firmware controls the behavior of the DCR relative to the model and selected test.  Your new DCR will have current level firmware pre-installed. The most recent rev level before a hardware upgrade is required is 700.6.  The latest Rev 701.2 includes rev 700.8  and is available after 01-Sept-2017 along with a new color system with three-point calibration. This is a major rev change and is not reverse-compatible. ALL DCR models 700.6 and lower must be upgraded to obtain the new functionality of 701.2.  Contact Solvita for instructions.
FIELD DCR FIRMWARE (pre-installed on Green DCRs)

This firmware controls the behavior of the Solvita Field Test DCR. Your new DCR will have current level firmware pre-installed. The current firmware rev 12.3 presents color value displayed on the LCD screen and converts to display CO2 as pounds per acre (lb/a) or optionally kilograms/hectare (kg/ha) based on soil volume measured. This firmware includes a memory module to store up to 2,000 results before downloading via DCReader. Contact Solvita for instructions.