Solvita Soil Health Suite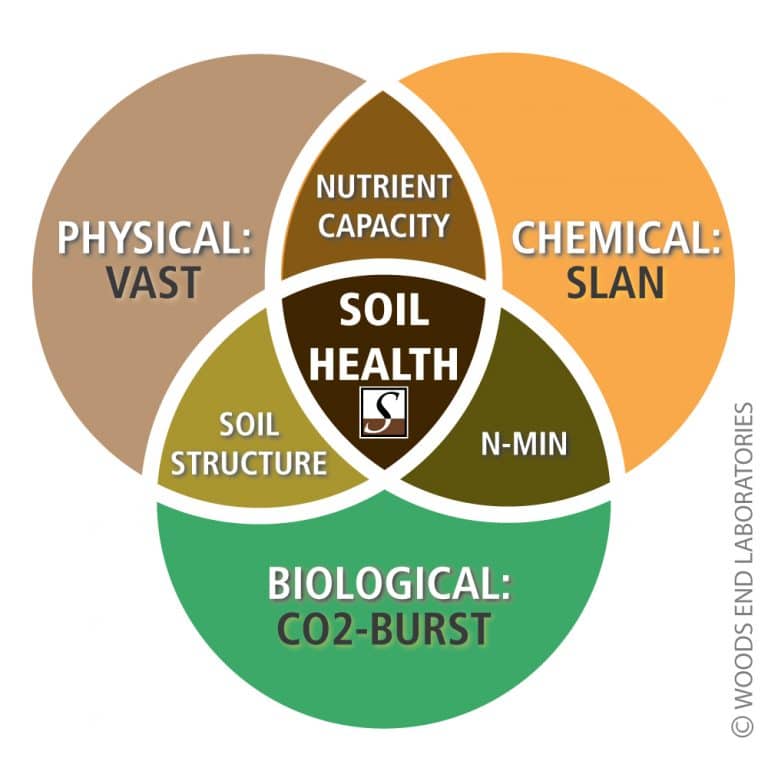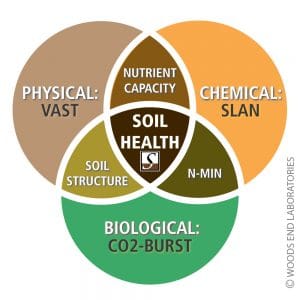 Testing soil quality for sustainable productivity – often referred to as soil health – requires more than just testing for nutrients. It is commonly accepted that such testing must encompass a quality triangle including a chemical, biological and physical segment. Woods End Soil Lab is now providing the Solvita Soil Health Suite for each segment:
Soil testing is widely considered to be the backbone of modern agricultural productivity – matching yields to measured soil fertility. Without seasonal monitoring of soil nutrient levels a grower faces the risk of incorrectly estimating yield potential. In addition, increased environmental concerns for groundwater quality mean that soil nutrients must not be over-excessive. From both these perspectives it is hard to imagine agriculture without soil testing.
Presently, soil biology has become increasingly recognized for its critical role in crop productivity. For this reason, it is no longer sufficient to only test for inorganic nutrients in soil. An increased number of labs and crop consultants see the need for including some measure of soil biology which helps predict yield potential. Solvita provides a test suite that fulfills the need and promise that farmers can assess soil biological functioning and make estimates of productivity.
During the past 20-years Solvita has emerged as a leading protocol. When you request a Solvita test from a commercial lab you'll receive results that deliver useful information on the effects over time of tillage, crop rotation and fertilization have on soil biology. Solvita results indicate a 24-hour CO2-C cycle, widely correlated with carbon decay and mineralization of organic nutrients.  By combining Solvita tests with regular nutrient tests new insights are possible into why soils differ in responsiveness even when nutrient tests are similar. By measuring Solvita, management changes can be assessed for their influence not only on nutrient potential, but longer term soil biology.
What can you do?
Find a lab near you: MAP of soil labs now offering Solvita tests.
Ask your soil lab for Soil Biology! If your soil lab is not performing this test, please ask them about it.
Are you a lab interested in the Solvita Method? Call us at 207-293-2457