Rapid, reliable Compost Maturity Index for CO2-rate and NH
3

volatization

Solvita® simply explained.

Solvita® is a test requiring no prior chemistry skills in order to obtain an accurate and useful result. The kit measures both carbon-dioxide (CO2) and ammonia (NH3) which are the two most common gases released during composting. High release of either or both gases indicates an unstable and possibly odorous condition associated with very actively degrading compost.

Due to the unique and separate character of carbon and nitrogen cycles, compost can not be assured to be stable or mature without assessing both carbon-dioxide rate and ammonia. In the Solvita protocol, the test results are combined in a unique fashion to obtain a Maturity Index.The concept of a maturity index arose over time based on the widespread experience that using a CO2 test alone to infer maturity is not reliable.

Solvita is a volumetric procedure. This means it measures respiration and emissions per unit volume of compost, and not per unit weight which is customary if a sample is sent to the laboratory. The advantage of measuring respiration per unit volume is that the results are relevant for growing media and constructed soils. Under virtually all circumstances where compost use is fairly heavy, the impact on soil ecology is governed largely by gas exchange per unit volume.

Solvita may be used to provide  useful information about the entire composting process. The test is applicable on-site to monitor the process, and for gauging the end  of composting  where CO2 rate and ammonia are expected to have attained low levels.  Volumetric respiration governs, among other traits, the sufficiency of oxygen.This is directly tied to the character of microbiology and the potential for odor.  As a laboratory procedure used in conjunction with the digital Solvita spectrometer, the results are as quantitative as any other biological test procedure.

Solvita Chemistry

Solvita® measures two compounds – CO2 and NH3 – which are frequently cited factors of volatile compost emissions. While CO2 alone is odorless and non toxic per se, high CO2-respiration composts are associated with many undesired traits: high-heating potential, odor release and high oxygen depletion.  Elevated ammonia may indicate a workplace hazard (while turning composts or storing compost indoors), and potential plant (and animal) harm. High ammonia release may also indicate a temporary imbalance in compost C:N when nitrogen breaks down faster than the microbes can metabolize it with carbon. The Solvita® ammonia test is also useful alone to estimate volatile ammonia in manures, sludges and composts.

Woods End's field research shows that compost that is not fully matured is also unstable, possibly very odorous and is capable of causing depression of plant growth, the latter caused by depletion of soil-pore space oxygen. The Solvita® test used in the proper manner offers a very reliable and important yard-stick for factors that impact soils and plants.

Solvita® detection is based on a novel, patented gel-colorimetry technique, analogous to Beer-Lambert's law governing optical-chemical reactions to changing concentrations of dissolved molecules,  carbonic acid and ammonium hydroxide. With the new DCR (digital color reader), the optical properties are measured with precision and accuracy (± 0.05 unit).

Each Solvita® Classic kit is furnished with 6 CO2 + 6 NH3 test strips, incubation jars and an instruction manual that provides insight into the compost process and gives guidelines for proper use of compost products at each level of maturity and activity. An upgrade to digital is readily available.

Validation tests and comparison trials have been performed by many researchers worldwide over many years, so that currently Solvita has taken its place alongside other standardized and recognized diagnostic tests. Solvita is considered the most widely used test for compost and soil-respiration.

For Toll-Free
Phone Orders: 1-800-451-0337 or 207 293 2457

fax orders 207 293 2488
---
THE BASIS of the SOLVITA® Test
Solvita® Chemistry Gels react to head space concentration of gases- CO2 and NH3 respectively. Click on the color chart and see the dynamic range that is available.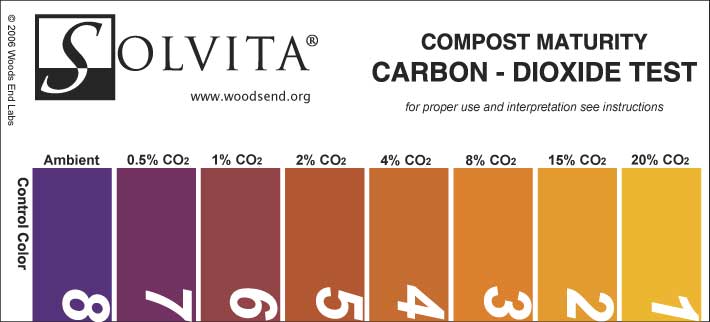 The CO2 color chart provides an ordinal-number scale of carbon dioxide rates in 8 visual color transitions, representing a concentration range. These values correspond to an exponential progression of CO2 values, as indicated in the color chart above. After 4-hours, one is able to read clearly the Solvita® value and thereby estimate emissions of CO2 resulting from compost. With the Solvita® DCR the exact color value to 1/10th color unit and the CO2 concentration to 0.1% precisions may be read. A compost with high emissions is not stable, and will deplete oxygen fairly rapidly. As noted above, each Solvita® color change correlates to about a 2-fold change in gas concentration.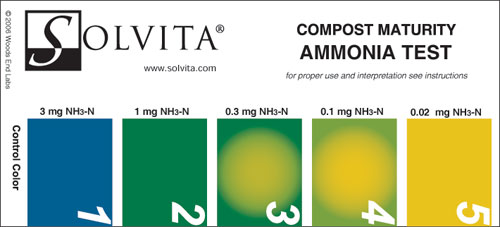 The color scale indicating changes in concentration of volatile ammonia (NH3)  is also expressed in an ordinal-number scale of 5 color units. These simply correspond to an exponential range of NH3-gas emissions. After 4-hours – or any time frame – the amount of volatized NH3 is discernible. With the DCR a quantitation of the mg of volatile N is made possible.
Ammonia is an important aid  fordetermining a compost Maturity Index, since high levels imply that the nitrogen has not stabilized in composting. High ammonia may also interfere with CO2 interpretation with any test. No other compost "stability" test worldwide has ever connected volatile NH3 and CO2 in a procedure since they are by nature, reductionistic and exclusionary. This is one reason explaining for the confusion of "stability' and "maturity". Industry has contributed to the confusion partly in order to prolong the debate and to forestall standards ever being adopted.
---
ABOUT THE SOLVITA® DIGITAL COLOR READER (DCR) AVAILABLE NOW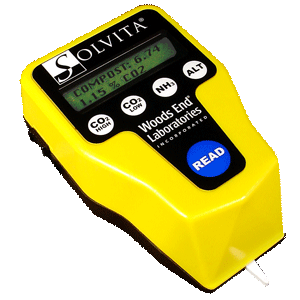 Woods End recently announced an innovation that allows more precise color readings of Solvita® kits. A Digital Color Reader (DCR) eliminates the subjectivity of color discrimination and notably improves the scale of readability. With more precise
color readings, a tool approaching quantitative is realized.
The DCR invention is based on modern LED technology, where color wavelengths bounced off the Solvita® gels are measured
by 16-bit micro-arrays and converted into RGB dynamic frequencies, translated directly into color units – equivalent to a handheld spectrophotometer. The DCR increases resolution by perhaps 50-fold to visual estimation of color.
For composters using the DCR, Woods End has added some useful applications. For example, the molar-CO2% can be determined (in the head space), serving to directly indicate oxygen consumption under the conditions of the test (at standard bulk-density). Lab procedures claiming to be "stability" tests are often only reporting laboratory artifacts- by removing the context of volume density and converting results to a gravimetric (weight basis), an interesting and possibly meaningless value is obtained that does not relate to the actual composting practice.
For persons requiring lab certifiable of analyses, it is a good idea to also use a Solvita volume-density test, to see if results are comparable.
In a soon to come update, Solvita-compost will be able to mimic the costly and time consuming lab test for CO2 respiration: if the weight of the compost is taken before the Solvita® test, then the DCR output may be used to obtain respiration in units such as mg CO2-C g TS.